Yesterday, I did something new. I went to the hairdresser and dyed my hair for the first time in my life. This may not be a big deal to some people but it is significant to me. I had been thinking about dying my hair for a couple years now but just never did it. Now, I have!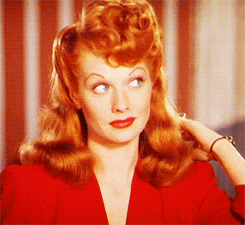 Why did I do it? Quite simply, I wanted a change. I wanted to look different, and give myself a mood lift so that I would feel different too. Now I know that your feelings are controlled by your own mind but I have not yet mastered the technique of changing my emotions with one simple thought. In the meantime, I am using what I can to help me make the changes I desire. So while I work on the internal forces, I will be using external factors to help me boost my mood.
And I am quite happy with the results. I dyed my hair a dark red and it looks nice if I do say so myself. I always liked the colour red. It is such a striking and commanding colour. It's the colour of love, passion and power and I want to be reminded of all three.
I had been hesitant to colour my hair these last few years mainly due to my involvement in the legal profession here in Trinidad. I have always been one to stick to rules and keep to the straight and narrow. So when I was told that we had to abide by certain dress codes and maintain a modest/boring appearance, I complied. Even when I saw many other attorneys disregarding the dress code and appearing in public and in court looking like flamboyant peacocks, I still complied.
But in the last year, since my life has been turned upside down and helter skelter, I decided to stop sweating the small stuff. Life is too short to worry about unnecessary things or unnecessary people and their reactions.
Now, will I be thrown out of court for having "unnatural-coloured hair"? I would like to see a judge try… Is red not a natural hair colour? It's not like I dyed my hair neon green or Barbie pink. My red is a subtle tint. Thus, my hair colour cannot possibly cause the legal profession to fall into disrepute. The Chief Justice is doing that all by himself.
While I will not be breaking rules, I will no longer be a slave to perfection. I will do what I want to do (within reason) to enjoy my life. I cannot be happy if I live a life of restriction and I dare say the same applies to most people.
So I am quite glad that I finally dyed my hair and did something new. As part of my journey to happiness I will continue to try new things and get as much enjoyment out of this life as possible. I challenge you to do the same!
Thanks for reading.
SUBSCRIBE!
If you haven't already subscribed to my mailing list, feel free to subscribe now by clicking HERE. When you subscribe you will receive a FREE copy of my guidebook "How to Start Your Day Right" as my gift to you! You will also gain access to more exclusive content in the future. So subscribe to my mailing list and join my blog family. I cannot wait to have you as a member!
Add me on:
Twitter @Giselle_Mills
Instagram @gisellezmills
Snapchat @gisellezmills